Bio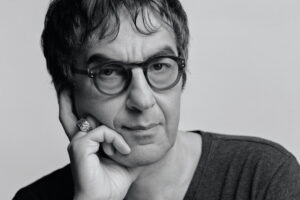 Atom Egoyan is one of the most celebrated contemporary filmmakers on the international scene. His body of work – which includes theatre, music, and art installations – delves into issues of memory, displacement, and the impact of technology and media on modern life.
Egoyan has won numerous prizes at international film festivals including the Grand Prix and International Critics Awards from the Cannes Film Festival, two Academy Award® nominations, and numerous other honours. His films have won twenty-five Genies – including three Best Film Awards – and a prize for Best International Film Adaptation from The Frankfurt Book Fair. Egoyan's films have been presented in numerous retrospectives across the world, including a complete career overview at the Pompidou Centre in Paris, followed by similar events at the Filmoteca Espagnol in Madrid, the Museum of The Moving Image in New York, and the Royal Cinematek in Brussels.
Born in Cairo in 1960, Atom Egoyan was raised in Victoria, British Columbia on the west coast of Canada. He moved to Toronto to study international relations and classical guitar. After graduating from Trinity College, where he wrote and directed plays for the Dramatic Society, Egoyan was chosen as one of the inaugural participants of the Playwrights Unit at Toronto's Tarragon Theatre.
While working in theatre in his early twenties, Egoyan – who began making short films through The Hart House Film Board at The University of Toronto – wrote his first feature film. NEXT OF KIN premiered at the Toronto Film Festival in 1984, and went on to win a Gold Ducat at the Mannheim Film Festival in Germany. His early features such as FAMILY VIEWING and SPEAKING PARTS were similarly presented at festivals around the world, winning a FIPRESCI prize (Locarno, 1988), as well as a CICAE award in Berlin. Egoyan has a long association with the Cannes Film Festival, with most of his features being presented in Official Selection (EXOTICA, THE SWEET HEREAFTER, FELICIA'S JOURNEY, ARARAT, WHERE THE TRUTH LIES, ADORATION, THE CAPTIVE), winning five major awards at this prestigious event. GUEST OF HONOUR premiered in competition at the Venice Film Festival, with other festival screenings (Toronto, Busan, London) following in 2019.
ARARAT, Egoyan's meditation on the Armenian Genocide of 1915, was distributed in over thirty countries. It won several awards, including Best Film on Human Rights by The Political Film Society of Hollywood, and the Freedom of Expression Award from the National Board of Review in New York. ADORATION won the Ecumenical Jury Award after premiering in Competition in Cannes, and CHLOE was selected as Opening Night Premiere at the San Sebastian Film Festival in Spain. With three major prizes at Cannes, two Academy Award® nominations, and unanimously positive reviews, THE SWEET HEREAFTER is widely regarded as the most acclaimed English-Canadian film ever made. DEVIL'S KNOT, based on a true-life story of the West Memphis Three, premiered at the Toronto International Film Festival in 2013 and also screened shortly thereafter at the San Sebastian Film Festival and the Hamburg Film Festival. The film stars Reese Witherspoon and Colin Firth. THE CAPTIVE, starring Ryan Reynolds, Mireille Enos, Scott Speedman, and Rosario Dawson, was released to great box-office success. Egoyan's feature, REMEMBER, starring Christopher Plummer – with premieres at both the Venice Film Festival (where it won the Vittorio Veneto Film Festival Award) and the Toronto International Film Festival – was released worldwide in 2015/16. It won Best Film and Best Actor at the Hanoi International Film Festival, the Cinecolor Audience Award at the Mar del Plata Film Festival, a nomination for Best Foreign Film at the Italian Academy Awards (Donatello), as well as several other awards.
Egoyan has been President of the Jury in Cannes (Cinéfondation and Shorts), Berlin (Main Competition) and Venice (First Feature), as well as a jury member at several other festivals, including Toronto, Yerevan, Taormina, Montreal, Sundance (Main Competition), The Tribeca Film Festival (Emerging Narrative Competition), Shanghai, and President of the Jury at the Yamagata International Documentary Festival in Japan. He was also on the international jury for the 2011 Glenn Gould Prize, head of the Canadian Delegation for the 2015 Marrakech International Film Festival, and was a Governor of TIFF's 2016 Talent Lab for emerging filmmakers.
He has been knighted by the French Government, received State Honors from The Republic of Armenia, and is a Companion of The Order of Canada. He has received ten Honourary Doctorates in Letters and Laws from universities including Trinity College, U. of T., Queens, U.B.C. and McGill. He won the Douglas Sirk Award from the Hamburg Film Festival, the Honorary Maverick Award from the Woodstock Film Festival, the El Pochote International Award for Digital Cinema and Mexico City's Cineteca Nacional Medal, and the Cinematographer-Director Duo Award from Camerimage in Poland, joining other career honours from festivals and events in Toyko, Hong Kong, Midnight Sun (Finland), Reykjavik, Las Palmas, Cairo, Jerusalem, Sao Paulo, Sarajevo, Prades, and the Panorama of European Cinema in Athens. In 2008 he was presented with the Dan David Prize for 'Creative Rendering of The Past,' a category he shared with Amos Oz and Sir Tom Stoppard. Egoyan was presented with the Queen's Diamond Jubilee Medal in 2012. In 2015, Egoyan received the Governor General's Performing Arts Award for Lifetime Achievement.
As well as published screenplays, Egoyan co-edited a critically acclaimed collection of essays titled SUBTITLES: ON THE FOREIGNESS OF FILM published by MIT Press in 2004. He produced an art book, DEAR SANDRA, with Volumina in Italy in 2008, and has had articles and essays printed in The New York Times, The Guardian, The Telegraph, The Village Voice, BOMB, Aperture, Granta, and several other publications. He was a Distinguished Professor at The University of Toronto for three years, where he conducted a multidisciplinary course for advanced students, and is currently on the faculty of the European Graduate School in Saas Fee, Switzerland. During 2011/2012, Egoyan was the Distinguished Scholar-in-Residence at Ryerson University and continues to teach there. He has lectured at Tate Modern in London, as well as delivered seminars at The University of Chicago, Columbia University, The Sundance Institute, University of Southern California, and The Marshall McLuhan Lecture at The New School in New York. He also presented the 2009 David Lean Lecture for the British Academy of Film and Television Arts.
For television, Egoyan began his career directing episodes of such legendary shows as The Twilight Zone and Alfred Hitchcock Presents in the mid-eighties. In 1992, his television film GROSS MISCONDUCT won several international honours including the Golden Gate Award from The San Francisco Film Festival and the Grand Prix from Cinema Tout Ecran in Geneva. His collaboration with cellist Yo-Yo Ma, SARABANDE, was included in the series INSPIRED BY BACH, which won an International Emmy. Egoyan directed Samuel Beckett's KRAPPS LAST TAPE for Irish Television, in an acclaimed production, which premiered at The Venice Film Festival and was later presented at The New York Film Festival.
Egoyan returned to the theatre with his successful production of Richard Strauss's SALOME, premiered by Canadian Opera Company in 1996, and later presented by Houston Grand Opera and Vancouver Opera, before being remounted by C.O.C. in 2003 and 2013. His original opera, ELSEWHERELESS, with music by Rodney Sharman, received over 30 performances throughout Canada, and was nominated for six Dora Awards. In 1998, Egoyan directed the world premiere of Gavin Bryars' DR. OX'S EXPERIMENT for English National Opera in London, and also directed Richard Wagner's DIE WALKÜRE as part of the Canadian Premiere of The Ring Cycle, winning the Dora Award for Outstanding Production. In 2015, his production of DIE WALKÜRE swept the Dora Awards with nine nominations, with Egoyan winning for Best Direction. Egoyan was honoured with a 2016 Opera Canada Award (Rubie) for Film and Stage Direction.
On the occasion of Samuel Beckett's Centenary Celebration in 2006, Egoyan's critically acclaimed interpretation of Beckett's EH JOE starring Michael Gambon and Penelope Wilton, was presented by The Gate Theatre in Dublin, later transferring to London's West End (where The Sunday Times proclaimed it, 'the greatest half-hour in theatrical history'), and was then remounted with Liam Neeson as part of the Lincoln Center Festival in New York in 2008. For this production, he won The Irish Times/ESB Award for Best Direction. Egoyan directed the North American premiere of Martin Crimp's CRUEL AND TENDER for the Canadian Stage theatre company in early 2012, and more recently, he directed Guo Wenjing's contemporary opera FENG YI TING for the Spoleto Festival USA and the Lincoln Center Festival. The New York Times praised this production for its 'dazzling fluidity,' calling it 'a brilliant morsel of theatrical art, flamboyantly conceived and compellingly staged.' FENG YI TING was performed as part of the Luminato Festival in 2013. Egoyan's original production of Mozart's COSÌ FAN TUTTE with the Canadian Opera Company was first performed in 2014, then remounted in 2019 by both the COC and Israeli Opera in Tel Aviv. In 2018, Egoyan mounted a theatrically-staged version of Alexander Zemlinsky's LYRIC SYMPHONY combining the first movements of Alban Berg's LYRIC SUITE. The world premiere of this original concept was presented at Spoleto Festival USA. After the acclaimed production of Janáček's JENŮFA at Pacific Opera Victoria in 2017, Egoyan returns to direct Benjamin Britten's DEATH IN VENICE in 2021. Egoyan directs a new production of Béla Bartók's BLUEBEARD'S CASTLE for Canadian Opera Company, which has its digital premiere in Spring, 2022.
Egoyan's art installations have been presented at the Venice Biennale, the Irish Museum of Modern Art, the Museum of Modern Art Oxford, and the Manchester International Festival. He has worked on art commissions for Artangel in London (STEENBECKETT, at the former Museum of Mankind, recently selected into the permanent collection of the Tate, exhibited at the MacKenzie Art Gallery, Fall, 2016), the Musée D'Art Contemporain de Montréal (HORS D'USAGE/OUT OF USE), Images Festival (TEN YEARS AFTER), Nuit Blanche (ADORATION STREET) in Toronto and the Luminato Festival (AURORAS). AURORAS (retitled CHORUS) was presented in 2015 at the Maxim Gorki Theater in Berlin as part of the program, "Es Schneit Im April – It Snows in April" to mark the centenary of the Armenian Genocide.
He has collaborated with such composers as Philip Glass for live music/projection works (DIASPORA), Daniel Lanois (TAMBOURA), and Steve Reich (BOLEX/NEXUS), as well as co-composing two songs and playing guitar on Gordon Downie's solo album, COKE MACHINE GLOW. Egoyan initiated the David Pecaut Commission for emerging artists by curating an exhibition at Luminato, Toronto Festival of Arts + Creativity, and created 8 ½ SCREENS, a site-specific work for the opening of the TIFF Bell Lightbox. His original works are in the permanent collection of the Tate, the Museum of Modern Art in Montreal, the MUSAC Collection in Spain, and the National Gallery of Art in Washington. As part of the Aldeburgh Festival in England, he collaborated on NOCTURNAL, an installation to mark Benjamin Britten's centenary and Julian Bream's commission of the seminal work for classical guitar by this great composer. In 2021, Egoyan collaborated with composer Mary Kouyoumdijian on a digital presentation of THEY WILL TAKE MY ISLAND, an exploration of the life of Armenian American abstract painter Arshile Gorky. Highly personal original short films and unreleased scenes by Egoyan were interwoven with interviews and new scores by Kouyoumdjian performed by JACK and Silvana Quartets.
Egoyan was on the Founding Committee of Human Rights Watch Toronto Chapter and honoured with a Tribute at the 2016 HRW Film Festival. He served on the Board of the Art Gallery of Ontario for ten years, following a decade as President of D.N.A. Theatre in Toronto, in addition to other board positions, including Factory Theatre. He is a Founding Board Member of REEL CANADA, an initiative to bring Canadian films into high schools. His production company, EGO FILM ARTS, has supported projects by such respected Canadian filmmakers as Peter Mettler and Guy Maddin, as well as helping to produce first and second features by a new generation of Canadian talent, including Ruba Nadda's SABAH and Sarah Polley's Academy Award® nominated AWAY FROM HER.
Egoyan was a member of the Founding Artistic Advisory Committee of the Luminato Festival, TIFF Bell Lightbox, the Ryerson Image Centre, and the Toronto Arts Foundation, which presented Egoyan with its Media Arts Award in 1995. He is currently on the Artistic Advisory Board of the Images Festival. Egoyan has also been the President of the Golden Apricot Film Festival in Armenia. In 2009, he won a 'Master of Cinema' award from the Mannheim Film Festival, 25 years after receiving his international festival premiere at the same event.
Egoyan is a member of The Academy of Motion Picture Arts and Sciences, the Directors Guild of America, the Directors Guild of Canada, the Writers Guild of America, the Writers Guild of Canada, and the Royal Canadian Academy of Art. He currently lives in Toronto with actress Arsinée Khanjian.
If you enjoyed this Opera give it a like! The "like" function is similar to voting for your favourite Opera. The top 10 lists are generated from the amount of "likes".
If this Opera is one of your favourite Operas, please favourite it. Adding a favourite is similar to bookmarking an Opera. It will be save to your profile so you can return to it with ease.
WORKS