Bio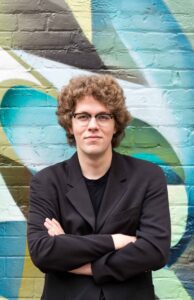 From scoring films, to researching rap, to running a concert series dedicated to new Canadian music, to hauling percussion around southern Ontario, to helping an entire class of students collectively compose a piece for symphony orchestra, composer August Murphy-King has worn a wide array of hats throughout his musical career.
After honing his craft as a composer of contemporary concert music and completing a doctorate in composition at the University of Toronto, he made his first foray into film music in 2019, composing music for the Irish-Canadian feature film The Winter Lake. A strong believer in collaboration, August works closely with directors, writers, performers, and content creators to help breath musical life into their projects
Currently based in Toronto, August lives with his fiancée, Emilie, and their golden retriever, Billie. When not working on music, he can usually be found doing something in the kitchen.
If you enjoyed this Opera give it a like! The "like" function is similar to voting for your favourite Opera. The top 10 lists are generated from the amount of "likes".
If this Opera is one of your favourite Operas, please favourite it. Adding a favourite is similar to bookmarking an Opera. It will be save to your profile so you can return to it with ease.
WORKS