Bio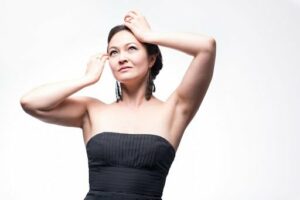 Debi is an interdisciplinary performance artist who loves to weave together sound, text, movement and technology to create contemporary stories. Her performances have been recognized as "unique and magical" (Rondo Classic) and "electric, poignant" (Schmopera). Debi is also the founding artistic director of re:Naissance Opera in Vancouver, BC. With re:Naissance she created #DidoAndAeneas (2014), an interactive, social-media opera, and Acis & Galatea, which was recognized by Vancouver Classical Music as one of the city's best operas in 2017. With re:Naissance, Debi is currently producing two new Canadian operas: Jesse: An ASL Opera by Landon Krentz and Sanctuary & Storm by Tawnie Olson & Roberta Barker. She is also part of the directing team for the 2022 production of Du Yun and Royce Vavrek's opera, Angel's Bone and she is the creative director of OrpheusVR, a new operatic experience in virtual reality.
If you enjoyed this Opera give it a like! The "like" function is similar to voting for your favourite Opera. The top 10 lists are generated from the amount of "likes".
If this Opera is one of your favourite Operas, please favourite it. Adding a favourite is similar to bookmarking an Opera. It will be save to your profile so you can return to it with ease.
WORKS