Bio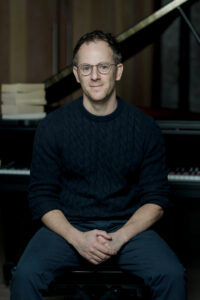 Originally from Northern Ireland, Gareth Williams is a Chancellor's Fellow at Edinburgh College of Art. His compositions seek to find new participants, collaborators and audiences for new opera and music theatre, to shed light on stories and communities that have been overlooked, and to explore ideas of vulnerability in vocal writing.
Williams was Composer in Residence at Scottish Opera from 2011 to 2014. During this time, he created a series of operas and projects, including 'Breath Cycle', at the respiratory ward of Gartnavel Royal Hospital, where he wrote songs, ensemble pieces, and opera specifically for patients with Cystic Fibrosis, who weren't allowed in the same room as one another. Breath Cycle was nominated for a Royal Philharmonic Award in 2015.
He has created three operas with NOISE Opera since 2012, each one bringing a new collaborator to the genre, from the patrons of Glasgow's oldest bar, Shetland fiddler, Chris Stout, and the indie band, Admiral Fallow.
'Rocking Horse Winner', produced by Tapestry Opera, a chamber opera, adapted from a short story by D.H. Lawrence by librettist Anna Chatterton, was premiered in Toronto in May 2016, and was nominated for 9 Dora Mavor Moore Awards, winning 5, including Outstanding Musical Production. A new production was staged at Saratoga Opera in 2018, and described as 'beautiful and disturbing, gripping and provocative.' (Classical Voice America)
From 2015 - 2018 Williams collaborated with Oliver Emanuel to create The 306 Trilogy.
306 Dawn (***** the Herald), 306 Day (**** The Times) and 306 Dusk (***** The Herald, ***** The Stage) were a collection of music theatre works over three years telling the story of the British soldiers shot for cowardice during WW1, produced by the National Theatre of Scotland in partnership with 14-18 Now.
If you enjoyed this Opera give it a like! The "like" function is similar to voting for your favourite Opera. The top 10 lists are generated from the amount of "likes".
If this Opera is one of your favourite Operas, please favourite it. Adding a favourite is similar to bookmarking an Opera. It will be save to your profile so you can return to it with ease.
WORKS