Bio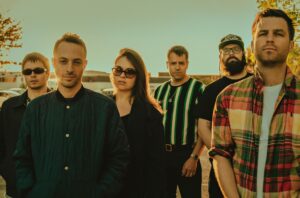 Fucked Up have had one of the most unpredictable career arcs of any band of this century, let alone any course run by a scrappy hardcore outfit from Toronto. What started as a ragtag group of people learning their instruments together and releasing searingly confrontational seven-inch singles, quickly expanded to something much bigger as soon as the band started releasing full-length albums in 2006. From there, they followed up each successive effort with something grander and more ambitious. 2008's The Chemistry of Common Life won Canada's Polaris Prize (a controversy then because of the band's unprintable name), then the 2011 18-song narrative-centric concept album David Comes To Life widened their scope even more.
Though 2014's introspective Glass Boys had a 42-minute runtime that was a direct reaction to its cinematic predecessor, Fucked Up have always pushed the limits of expectations. Few bands can within the span of a year pen an honest-to-goodness opera, put out a metatextual album-length meditation on being in a hardcore and punk band, and a 21-minute single inspired by the Chinese Zodiac (their seventh in a series). But whatever twists and turns the band has taken throughout its 17-year career, there's a vitality to the compositions that is the reason Fucked Up has endured longer than most hardcore outfits. As drummer Jonah Falco said in a 2011 Spin interview, "When the band started, the idea was, 'Angry people make angry music for other angry people.' Then that became, 'Angry people realize there's more to life.'"
If you enjoyed this Opera give it a like! The "like" function is similar to voting for your favourite Opera. The top 10 lists are generated from the amount of "likes".
If this Opera is one of your favourite Operas, please favourite it. Adding a favourite is similar to bookmarking an Opera. It will be save to your profile so you can return to it with ease.
WORKS