Bio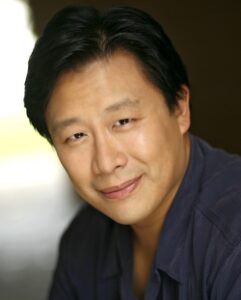 Jovanni Sy is a Canadian playwright, actor, and director with Chinese-Filipino ancestry. Sy was born in Manila, and grew up in Toronto, Ontario. He studied engineering at the University of Toronto before deciding to become an actor, and studied with RH Thomson.
For twenty years, he was active in the Toronto theatre community. From 2004-2009, he was artistic director of Cahoots Theatre Projects. In 2011, he returned to Cahoots to perform his one-man play, A Taste of Empire (dir. Guillermo Verdecchia, in which he prepared a traditional Filipino fish recipe in the St. Lawrence Market Kitchen, while comically deconstructing the historical, political, and ethical implications of the dish, particularly in respect to the Spanish colonization of the Philippines, and the globalization of jobs and food production. It was nominated for a Dora Mavor Moore Award.
In 2018, his murder-mystery play Nine Dragons premiered at Gateway Theatre, in a co-production with Vertigo Theatre and Manitoba Theatre Centre. Set in Hong Kong in the 1920s, it features a Chinese detective, frustrated by the racism and discrimination of a colonial society, whose antagonist is a wealthy assimilationist "businessman" who preys on women.
Sy was a member of Factory Theatre's Playwrights' Lab from 2001 to 2004, and the Playwright-in-Residence at Tapestry New Opera Works in 2005. In 2010 he was playwright-in-residence at the Shaw Festival. His acting credits include Wong Foon Sing in Sharon Pollock's End Dream (Theatre Junction 2000); Iron Road, a new Canadian opera (2001); and Fear of Flight at the 2010 Winter Olympiad. He has also performed extensively in film and on television.
He directed Jean Anouilh's Antigone, David Harrower's Blackbird, and Yasmina Reza's The God of Carnage for Theatre du Pif in Hong Kong. From 2012 to 2019, Sy was Artistic Director of Gateway Theatre, inaugurating the Gateway Pacific Theatre Festival in August 2014 with three productions in Chinese from Hong Kong. In 2016, he produced the Pacific Series, a year-round, Chinese language series (with English surtitles) as an alternative to the Gateway's subscription series of English-language plays.
He lives in Richmond British Columbia with his wife Leanna Brodie.
If you enjoyed this Opera give it a like! The "like" function is similar to voting for your favourite Opera. The top 10 lists are generated from the amount of "likes".
If this Opera is one of your favourite Operas, please favourite it. Adding a favourite is similar to bookmarking an Opera. It will be save to your profile so you can return to it with ease.
WORKS